Elephant Trunk Hill & Reed Flute Cave, Guilin - travel journal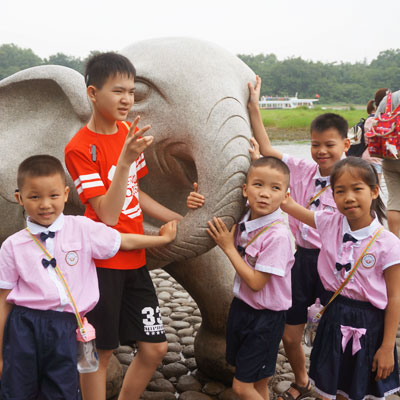 Every time a customer books one of our holidays and opts in to our Trip for a Trip scheme, we organise a day trip for a disadvantaged young person somewhere around the world to see their local tourist sites, often for the first time.
China Highlights partnered with Responsible Travel to support a trip for the Guilin Yuanlin Special Education Center. All children in this center face physical problems: some are deaf, some are autistic and others suffer from mental illness. This trip offered them a great chance to appreciate the beautiful Guilin scenery.
On Sunday, 4th Jun 2017, China Highlights organized a trip for a group of 5 children, 5 teachers and 4 China Highlights staff from the Guilin Yuanlin Special Education Center to the famous Elephant Trunk Hill and Reed Flute Cave in Guilin, Guangxi Zhuang Autonomous Region. The Children were aged between 5-13 years old, all of them were hearing-impaired.
Journal:
8:30am - Departure from Yuanlin Special Education Center:
China Highlights staff and driver picked up the children at their school at around 8:30 am, they then drove to the first scenic spot - Elephant Trunk Hill. Every child introduced themselves in the car.
9am - Visit to the Elephant Trunk Hill:
Elephant Trunk Hill, also known as Elephant Hill, is a rock formation that looks like a huge elephant stretching its trunk and drinking water. The Children took lots of photos of the hill before climbing it, the 5 small children climbed even faster than adults. After they came down from the hill, they came across a little snail on the road, everyone touched it and said hello to it. Then they watched a show in the park, threw little pebbles into the Li River and took photos. They also found a little crab when playing beside the river.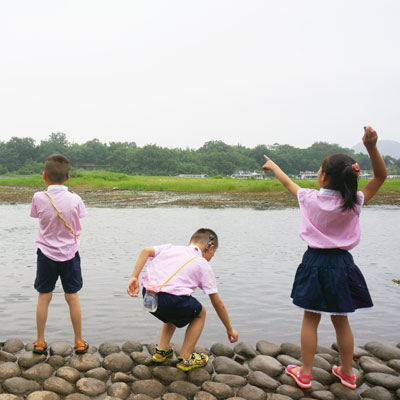 12pm - Transfer to the Lujia Village for lunch:
One of the children, a little boy, likes painting very much and he painted an Elephant when waiting for lunch.
2pm - Reed Flute Cave:
The cave is filled with a large number of stalactites, stalagmites, and rock formations in weird shapes. The guide explained about stalactites and told of legends about the cave. The group also watched a little film in the cave. The Children were very excited whilst watching the film, even though they canít hear the voices clearly.
4pm - Back to school 'Yuanlin Special Education Center':
China Highlights staff accompanied them back to their school.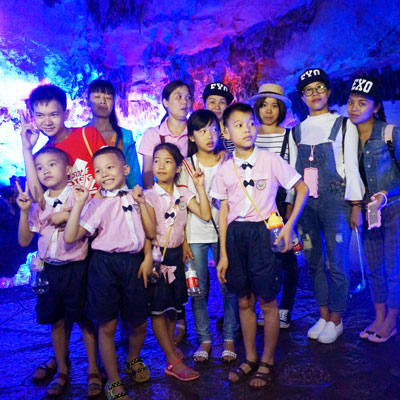 Impact:
The one day trip to the Elephant Trunk Hill and the Reed Flute Cave in Guilin brought lots of fun to the five children who are hearing-impaired.
It was the first time for them travelling to Guilin. They saw beautiful views with their own eyes not just on TV or in photos. The 5-10 year olds may not understand the historical or geological information of Guilin but they enjoyed immersing themselves in nature, looking at a snail creeping on a cliff, touching crystal Li River water and seeing water-drop dripping down from stalactites.
Another positive impact on the five children is communication with different people on the one-day trip. They introduced themselves to China Highlights staff, said hello to other tourists and bought drinks from a stall keeper. They were very shy at the beginning, then became more and more confident to talk with imperfect pronunciation.
For three China Highlights staff, they learnt a lot from close communication with these children and their teachers. The were treated as ordinary people and let know that they are an important part of their society.
Quotes from the day
"
"It is the first time I travel in Guilin, I want to draw & paint to record the day"

"I can hear birds' singing, they are happy"

"I saw the Elephant Trunk Hill in pictures, today I see it"

"My favorite dish is the fish cooked with tofu"

"I like the Li River, because I can throw little pebble into it at the farthest distance"
"
About our partner organisation:
As a tour specialist founded in 1998, China Highlights is here to help create customers' own unique China and Asia tours to discover in an unique way.
Integrity and trustworthiness is one of China Highlights company values. Responsible travel and responsible business play an important role in the soul of a company. Since 1998, China Highlights had formed a partnership with Helping Hands Volunteer Association in Guilin and donated money to help disadvantaged children in a local orphanage each year.
With better understanding of corporate social responsibility, China Highlights realized that give a man a fish and you feed him for a day; teach a man to fish and you feed him for a lifetime. So they change to help people in a sustainable way, e.g. arrange customers to learn Yao minority embroidery from local women in Longsheng, Guilin. On one hand local women can get income from it and have more time to take care of family, especially children, on the other hand, they use part of income to build a foundation to support the local crafts art.
China Highlights is the first Chinese tour operator who was longlisted for the World Responsible Tourism Awards 2016.


More about Trip for a Trip