History museums, Jakarta - travel journal
Every time a customer books one of our holidays and opts in to our Trip for a Trip scheme, we organise a day trip for a disadvantaged young person somewhere around the world to see their local tourist sites, often for the first time.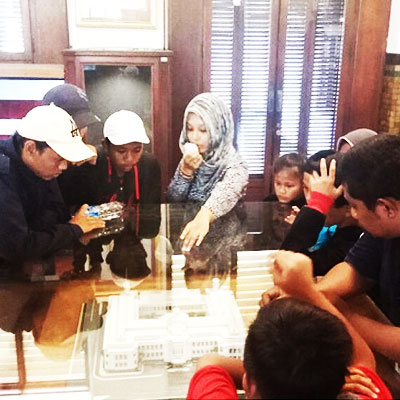 On 10th February, we took 22 children (aged 8-17) from three areas of Jakarta (Kampung Jembata, Matraman and Karet) to two history museums: the History Museum of Jakarta and the Mandiri Bank History Museum. Both museums are located in the most historic area of the city, Old Jakarta. Old Jakarta is one of the only parts of the city to have preserved Indonesia's history as a Dutch colony, and features many examples of Dutch architecture, including the buildings housing the two museums. Old Jakarta is a popular weekend destination, but is located far from the city centre in the north of Jakarta, so the children we work with had not had the chance to visit it before. Hence, the trip was a great experience and very educational for the children. Accompanying the children at all times were five staff and five volunteer parents, along with two tour guides from each museum. The trip used the services of Hiba Utama, a reputable local bus company.
Journal:
Date:
10th February 2018
8am-9am:
The children gathered together at the appointed meeting place, a park in Tebet (East Jakarta) near our office.
9am-10:30am:
The bus ride to Old Jakarta took about an hour and a half. We passed the time by singing Indonesian children's songs and playing games like 20 Questions.
10:30am-12pm:
We arrived at the History Museum of Jakarta at 10:30am. We split into two groups of 11 children, each accompanied by a tour guide and our staff/volunteers. The tour took the children on a journey through the history of their city and their country, starting from the Paleolithic era and ending at the modern era; from Indonesia's ancient traditions of seafaring and trade to its colonisation, and finally to its independence in 1950. As they moved through the museum, the children viewed each exhibit with a certain awe, which made clear how out of the ordinary and special thisexperience was for them.
12pm-1pm:
After the first museum, the children rested their bodies and prepared their minds for more learning with a wholesome lunch. The lunch was traditional Indonesia food (rice, chicken and vegetables), which was prepared by the children's parents the night before the trip.
1pm-2pm:
The second museum, the Mandiri Bank History Museum, took the children through the history of Indonesia via the lens of its largest national bank, Bank Mandiri. As before, the children were split into two groups and accompanied by tour guides. This museum offered the children a view of the history of Indonesia's money, economy and financial technology. The children were happy to be able to use their hands to interact with old equipment and models (completely safe of course) used for banking in a bygone era.
2:30pm:
After the tour ended, the children (now sleepy from a stimulating day) hopped on the bus and we took them back to the meeting point, where they were met by their parents, who took them home. It was surely a day they won't forget.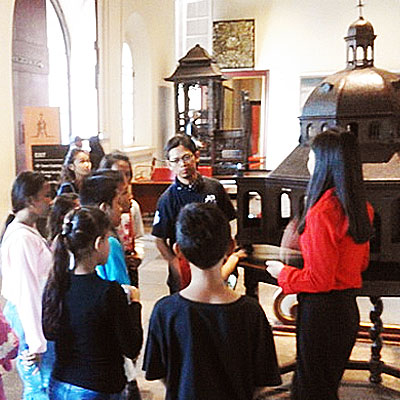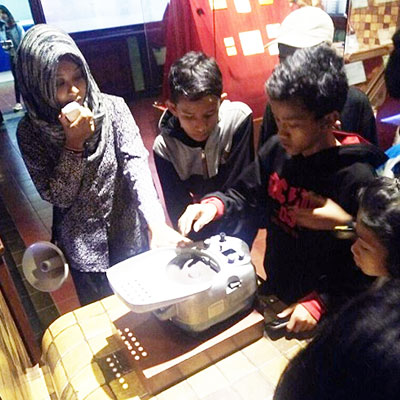 Impact:
All of the children we work with are from marginalised communities (aka slums) and are often street-involved (begging, scavenging, busking, selling). For children from this background, who have little experience of education and sightseeing, trips of this kind leave a remarkable impression. The two museums gave an excellent overview of Indonesia's diverse history and introduced the children to their national figures, culture and history. Needless to say, this historical awareness is crucial to their perceptions of themselves in society and in the world. The value of these positive self perceptions is even greater when considering their daily lives are often defined by social stigma as result of street involvement and poverty. Reaching for a better life comes from ideas and knowledge. This trip surely nourished the children with many positive ideas passed down from their ancestors.
Quotes from the day
"
"During the visit to the Jakarta History Museum, I was amazed at all the history shown. I learned a lot about the history of Jakarta and Mandiri Bank."
- Gita, 11

"I learned all about history in Indonesia and ancient times, including about Indonesian heroes. When we went to Museum Mandiri Bank, I learned about the symbols used on our money, the history of money and printing in ancient times, and how to save money in a piggy bank."
- Devi, 12

"At the Jakarta History Museum, I felt amazed to see all the archaeological remains, especially when we visited the underground prison. After that I went to Museum Bank Mandiri. Now I'm tired, but it was fun."
- Arif, 12
"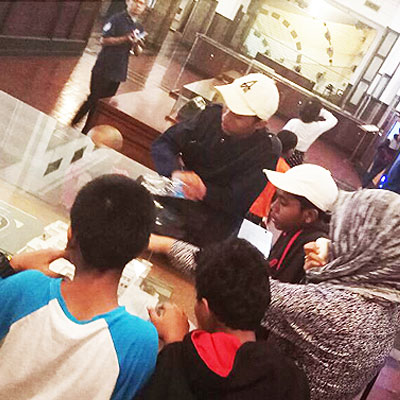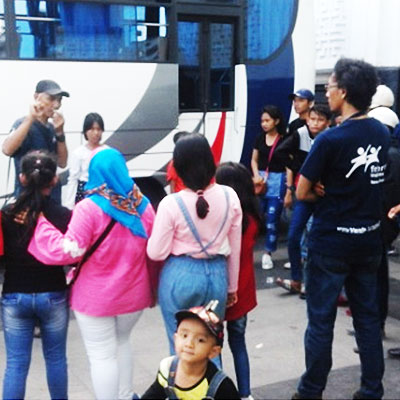 About our partner organisation:
Friends International is an award winning social enterprise founded in 1994 that saves the lives and builds the futures of the most marginalised children, youth, families and communities in South East Asia and around the world. It works to create a future where all children are safe from all forms of abuse, and become functional, productive citizens who contribute to a more peaceful, equitable and sustainable world. Friends works in Cambodia, Indonesia, Laos and Thailand, and with 45 partners around the world, to provide comprehensive service to marginalised urban children, youth and their families. Since its inception, Friends has supported the education, well-being and sustainable reintegration of more than 300,000 vulnerable children, youth and their families.
Friends International's programme in Indonesia, Teman Baik ("Good Friends" in Indonesian), was launched in 2007 to provide services to children and families after the 2004 tsunami. Teman Baik moved from Aceh to Jakarta in 2013, and registered as a local non-profit (yayasan) in 2014. Teman Baik responds to challenges of marginalised children with a holistic street-based programme aimed at ensuring children, youth and their families are able to claim their rights to well-being and self-development. Working in seven city zones, on the streets and in communities both during the day and at night, Teman Baik protected and empowered over 2,400 marginalised young people and caregivers in 2016.


More about Trip for a Trip