Kite museum, Jakarta - travel journal
Every time a customer books one of our holidays and opts in to our Trip for a Trip scheme, we organise a day trip for a disadvantaged young person somewhere around the world to see their local tourist sites, often for the first time.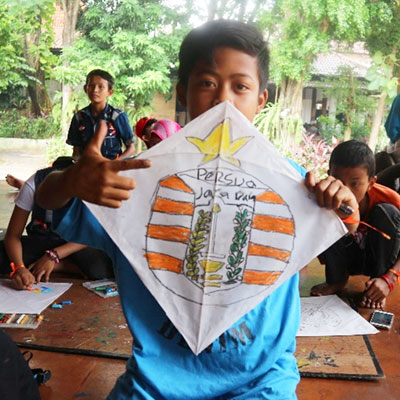 Living in a big metropolitan city like Jakarta does not give many opportunities for children to play outside using traditional toys. With limited public spaces and limited children's playgrounds, children in densely urbanised areas of Jakarta are becoming much less active outside. Although children from wealthier families have the option to travel to other attractions, those from the most marginalised (such as the ones Teman Baik work with) do not have these opportunities.
On, Saturday 12 August 2017, the Teman Baik team organized a trip with 22 children to the Kite Museum in Jakarta, Indonesia. The children aged between 10 and 14 are from a marginalized community in Matraman, Central Jakarta. Along with children, ChildSafe Agents and youth from the community joined two Teman Baik social workers on the trip, along with volunteers from BINUS University.
Journal:
Date:
12th August 2017
8:30 - Getting ready:
The TB team with volunteers organised and helped children to prepare for the day ahead.
9:00 - Ready to go:
The children were ready having had their breakfast, and the bus was ready to take children to museum. While on the road to the museum the children played little games and sang. They had a good time during the trip to the museum.
10:50 - Arrival:
Arrived at the museum, where we had registration and the children prepared to see the museum.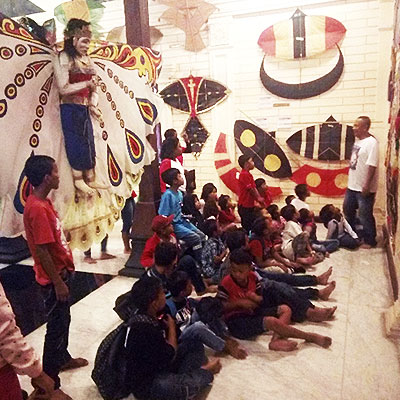 11:15:
The children were shown around the museum by a museum guide. They looked at the kite collection and learned the process of how to make one which they enjoyed. Some of the kites in the collection were new to the children, they were really exciting to see a wide range of kite shapes that are uncommon and new for them.
12:00:
Lunch break
13:00 - Making a kite workshop:
In this small workshop, the children were taught how to make their own kite with guidance from museum staff. They really enjoyed this knowing that the process is fun and educating and they could take their kites home afterwards.
14:00 - Returned home.
Impact:
This opportunity provided by Responsible Travel enables marginalised children to play with kites, which some of the children have never experienced before. They also see various shape of kites, which is beyond their imaginations, which is great to let them get creative. The philosophy behind kites is all about balance, children who join this trip and making their own kite are aware that measuring and balancing are the most important part in kite making, followed by patience and a touch of art.
Teman Baik see this trip to the Kite Museum as a way to bring joy to the children by using their creativity in the process of making their own toys.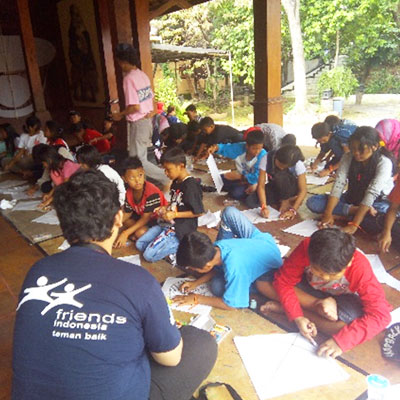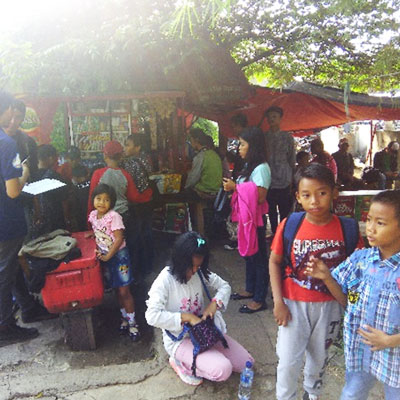 Quotes from the day
"
"I feel lucky and happy because I can visit the museum. I can see a lot of kites here and also can make my own kite. I want to make one for my little brother because we don't play kites, but I would love to make one."
- Maylani (age 12)

"I felt happy and now I can make kites."
- Rohman (age 10)

"Children should have more time doing this kind of things, making their own toys and being creative."
- Siti (ChildSafe Agents)
"
About our partner organisation:
Friends International is an award – winning social enterprise founded in 1994 that saves lives and builds futures of the most marginalised children youth, families and communities in South East Asia and around the world. It works to create a future where all children are safe from all forms of abuse, and become functional, productive citizens who contribute to a more peaceful, equitable and sustainable world. Friends works in Cambodia, Indonesia, Laos and Thailand, and with 45 partners around the world, to provide comprehensive service to marginalized urban children, youth and their family. Since its inception, Friends has supported the education, well-being, and sustainable reintegration of more than 300,000 vulnerable children, youth and their families.
Friends International's program in Indonesia, Teman Baik ("Good Friends" in Indonesian), was launched in 2007 to provide services to children and families after the 2004 tsunami. Teman Baik moved from Aceh to Jakarta in 2013, and registered as a local non-profit (yayasan) in 2014. Teman Baik responds to challenges of marginalized children with a holistic street-based program aimed at ensuring children, youth and their families are able to claim their rights to well-being and self-development. Working in seven city zones, on the streets and in communities both during the day and at night, Teman Baik protected and empowered over 2,400 marginalised young people and caregivers in 2016.


More about Trip for a Trip