National Museum (Elephant Museum), Jakarta - travel journal
Every time a customer books one of our holidays and opts in to our Trip for a Trip scheme, we organise a day trip for a disadvantaged young person somewhere around the world to see their local tourist sites, often for the first time.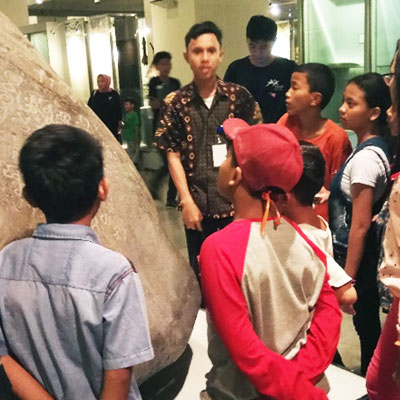 The second trip for Friends-International's program in Indonesia, called Teman Baik, was to the National Museum, also known as Elephant Museum. In this trip, children see and learn about history, and the reason behind why the museum is called Elephant Museum.
On 19th August, 23 children (aged 10-14) joined the trip, together with 2 members of the Teman Baik team, volunteers and also ChildSafe agents. Children who join this trip are from Matraman (Central Jakarta) and Kampung Jembatan (East Jakarta) area, a poor community in Jakarta in a crowded area where spaces for children to play are limited, so visit to Museum are received well by the community and children.
Journal:
Date:
19th August 2017
9:00 - Getting ready:
Teman Baik with volunteers and ChildSafe agents in community helped the children to get ready for the trip.
9:00 - Ready to go:
The children were ready having had their breakfast, and the bus was ready to take children to museum. While on the road to the museum the children played little games and sang. They had a good time during the trip to the museum. The trip to the National Museum was around 1-2 hours long. The children were happy and had a cheerful journey there despite the traffic.
10:50 - Arrival:
Arrived at the National Museum where the Teman Baik team prepared the registration and children were already excited to see the museum.
11:15:
The children looked at the museum collection accompanied by a museum guide. Every display/attraction in the museum was carefully explained by the guide. The children were very interested and some of them took notes about the displays and artefacts. the National Museum collection ranges from pre-historic time, modern time and includes the colonial era and post-colonial era of Indonesia. The children learned their nation's history in fun and interesting ways.
12:00:
Lunch break
13:00:
After their lunch break, the children took another look at the museum and see the remaining artefacts.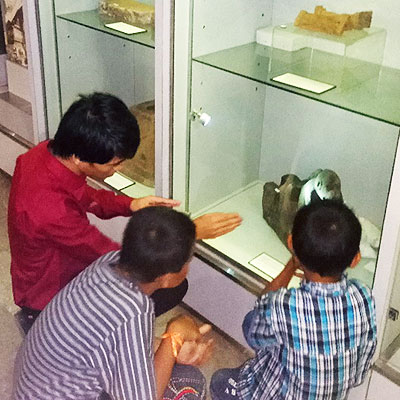 14:30 - Returned home:
After travelling to the museum the children had a small discussion with the Teman Baik team, the trip then ended and all children arrived safely at their homes.
Impact:
Children will always love a visit to a museum and this time we take children from a marginalised community that we work with to visit one. Most of the children have never visited any museum before and this visit was meaningful for them. As mentioned above, children in Matraman and Kampung Jembatan don't have much opportunity to enjoy playing outside because there are no spaces in the community for them to play so with this trip we give an opportunity for children to go out and enjoy their city and get in touch with their nation's history.
At the National Museum children can learn their nation's history, its arts and cultures. Children can see their country through various times and watch it change and evolve to what they see today. Things that they only read in books can now be seen by them. After this visit, most of the children are expressing their interest in history, especially Indonesian history which is quite challenging and interesting topics for them, they can learn history while having fun doing it.
Quotes from the day
"
"I am lucky and happy today because I can go out and see National Museum. In the museum I can learn about prehistoric relics, history of Indonesia and culture in other Indonesia regions. I want to go every year to other museum."
- Wahyu (age 12)

"I am very happy to learn with other friends from Kampung Jembatan and together we add more knowledge, like why is National Museum is called Elephant Museum? Because there used to be an elephant, a gift from Thailand to Indonesia."
- M. Rifky (age 13)

"It's so good to watch children enjoying this trip. We should take children more often to museums or other cultural destinations because it is good for them to see other places outside their community."
- Gihon (age 22 - volunteer)
"
About our partner organisation:
Friends International is an award – winning social enterprise founded in 1994 that saves lives and builds futures of the most marginalised children youth, families and communities in South East Asia and around the world. It works to create a future where all children are safe from all forms of abuse, and become functional, productive citizens who contribute to a more peaceful, equitable and sustainable world. Friends works in Cambodia, Indonesia, Laos and Thailand, and with 45 partners around the world, to provide comprehensive service to marginalised urban children, youth and their family. Since its inception, Friends has supported the education, well-being, and sustainable reintegration of more than 300,000 vulnerable children, youth and their families.
Friends-International's program in Indonesia, Teman Baik ("Good Friends" in Indonesian), was launched in 2007 to provide services to children and families after the 2004 tsunami. Teman Baik moved from Aceh to Jakarta in 2013, and registered as a local non-profit (yayasan) in 2014. Teman Baik responds to challenges of marginalised children with a holistic street-based program aimed at ensuring children, youth and their families are able to claim their rights to well-being and self-development. Working in seven city zones, on the streets and in communities both during the day and at night, Teman Baik protected and empowered over 2,400 marginalised young people and caregivers in 2016.


More about Trip for a Trip