Planetarium and Observatories, Jakarta - travel journal
Every time a customer books one of our holidays and opts in to our Trip for a Trip scheme, we organise a day trip for a disadvantaged young person somewhere around the world to see their local tourist sites, often for the first time.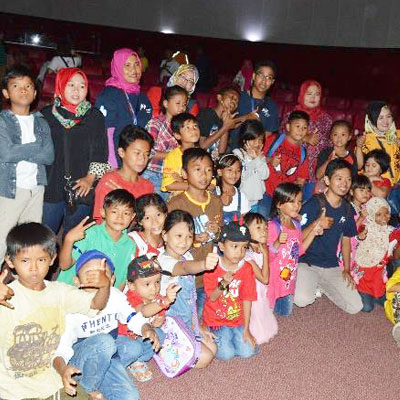 Child protection organisation Teman Baik took a trip with children on October 21st to Planetarium and Observatories in Jakarta. 25 children aged 6-12 from the village of Karet Tengsin took part in this trip, with 5 ChildSafe agents and volunteers from Karet Tengsin Community.
Karet Tengsin is a village in Tanah Abang district, Center Jakarta. The village is located side by side with a public cemetery, and public market, and it can be described as a poor, marginalized urban area in Jakarta. Teman Baik work with a community living in a small part of the public cemetery, including children who live and play in the cemetery area. We identified problems in Karet Tengsin, especially regarding child protection, such as children not having a decent space to play (they play every day in the public cemetery area, which is not safe), poor access to hygiene, education, and a high risk of early marriage.
Journal:
Date:
21st October 2017
07.30 - 08.30:
Preparation and final check of children who would join the trip, as well as ChildSafe agents and volunteers who helped us during this excursion. We briefed the Teman Baik team, and divided into four groups of children with ChildSafe agents and TB Staff, to supervise the children and keep them safe while in Planetarium and Observatories.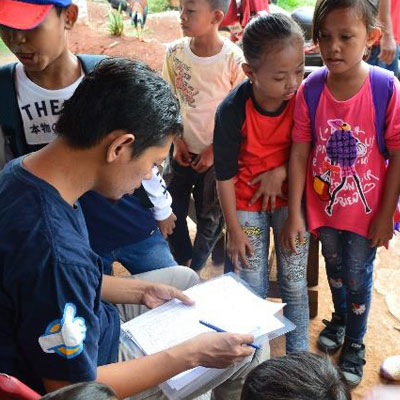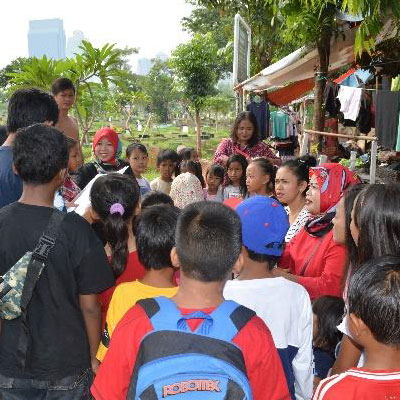 09.30 – 11.30:
Arrival at Jakarta's Planetarium and Observatories. The TB team and volunteers organized children to see a movie in Star Theatre, one of the attractions in Jakarta's Planetarium and Observatories. The movie we watched was about space, the galaxy, our solar system and natural sciences. The children were amazed to see the movie, it opened a whole new perspective for them, and new knowledge, they really enjoyed it.
11:30 - 12.00:
Lunch break
12:00 - 13:30:
The children and the team go to the planetarium to see an astronomy exhibition. The children discussed sky objects and reviewed the information they got from the movies with exhibition objects in the planetarium.
13.30:
Returned home.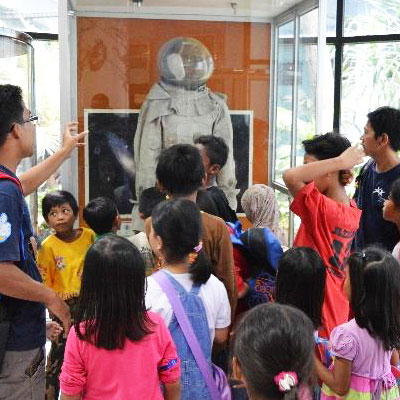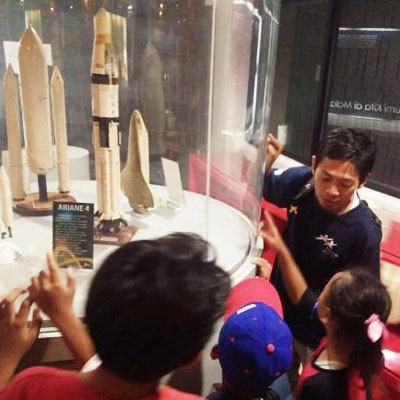 Impact:
The children really enjoyed the experience; space, spacemen, galaxies and the solar system is always an exciting topic for children and many of the Teman Baik children had never had a chance to experience a visit to a planetarium, despite living in a big city.
The children built their knowledge on space, the solar system, and the natural sciences, and things that they had only studied in school were brought to life for them.
Quotes from the day
"
"I felt happy to know about astronauts and have an understanding of space and the solar system, I want to go again and watch the movies again."
- Farel (age 9)
"
About our partner organisation:
Friends International is an award – winning social enterprise founded in 1994 that saves lives and builds futures of the most marginalised children youth, families and communities in South East Asia and around the world. It works to create a future where all children are safe from all forms of abuse, and become functional, productive citizens who contribute to a more peaceful, equitable and sustainable world. Friends works in Cambodia, Indonesia, Laos and Thailand, and with 45 partners around the world, to provide comprehensive service to marginalised urban children, youth and their family. Since its inception, Friends has supported the education, well-being, and sustainable reintegration of more than 300,000 vulnerable children, youth and their families.
Friends International's program in Indonesia, Teman Baik ("Good Friends" in Indonesian), was launched in 2007 to provide services to children and families after the 2004 tsunami. Teman Baik moved from Aceh to Jakarta in 2013, and registered as a local non-profit (yayasan) in 2014. Teman Baik responds to challenges of marginalised children with a holistic street-based program aimed at ensuring children, youth and their families are able to claim their rights to well-being and self-development. Working in seven city zones, on the streets and in communities both during the day and at night, Teman Baik protected and empowered over 2,400 marginalised young people and caregivers in 2016.


More about Trip for a Trip