Nyanza Stables, Swaziland - travel journal
Every time a customer books one of our holidays and opts in to our Trip for a Trip scheme, we organise a day trip for a disadvantaged young person somewhere around the world to see their local tourist sites, often for the first time.
Responsible Travel customers are helping disadvantaged children from All Out Africa's neighbourhood care points enjoy a day out to visit the animals at Nyanza Stables in Malkerns Valley, Swaziland.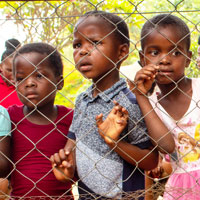 Our latest trip to Nyanza Stables - 6th December 2018:
Today a group of 28 children aged four - six years old and from Mahlanya Neighbourhood Care Point (NCP) visited the farm. This was a Christmas party trip and they had a special Christmas lunch along with visiting the animals. Here is a quote from one of the children -
"I really loved today's trip. Touching a horse was scary but exciting."
We have worked with our partner in Swaziland, All Out Africa to devise a trip for children that attend the local Neighbourhood Care Point (NCP) centres. These centres were started by the communities who live there and most of the children who attend have lost a parent, or in some cases are orphaned. The children have never visited Nyanza Stables, despite living nearby, so this trip gives the children a chance to see up close some of the animals they have heard of but never seen. Travelling by minibus and stopping for lunch ensures a fun packed day out for the children.
Nyanza Farm has been owned and run by a family for over 50 years. On it they have guest cottages, a family lodge, riding school, horse trails, a Jersey dairy herd and lots of farmyard animals, dogs and cats of all shapes and sizes. A lot of the animals are rescued and many of them have a story to tell. The farm is situated in the scenic Malkerns Valley, in the heart of the Kingdom of Eswatini. Eswatini has an enchanting mixture of beautiful scenery, culture and tradition. The local people are warm, friendly and helpful to visitors.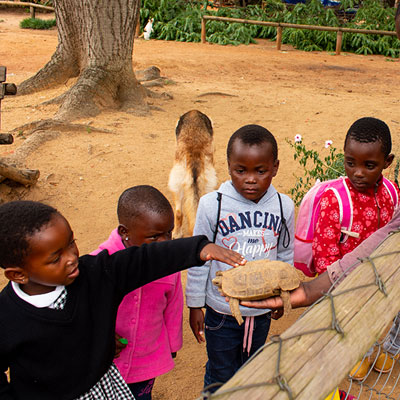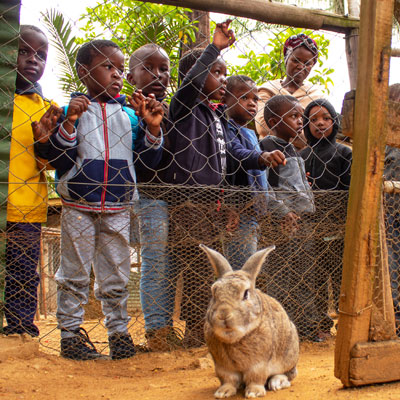 SAMPLE ITINERARY OF NYANZA STABLES VISIT:
What wildlife the children can see:
Domestic animals and a number of horses.
What the children will do:
Explore the farm and visit the domestic animals. Children will also enjoy a special and plentiful lunch of rice, fried chicken stew and orange juice which is quite a highlight in itself!
Some of our favourite parts of the day:
The Christmas lunch was amazing.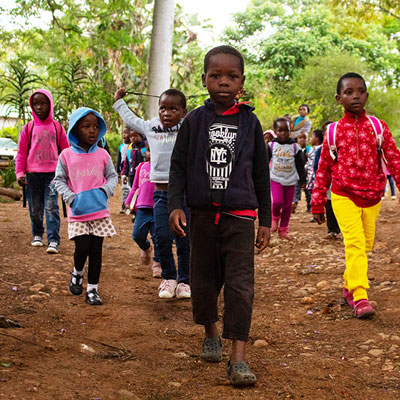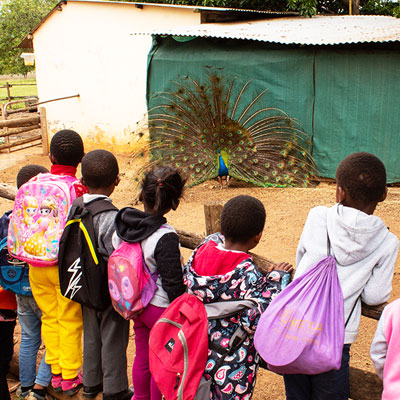 Quotes from the day
"
Children:

"I had a happy and fun day with my classmates. Can we do this again." - Nkululeko Mkhambela (age 6).

"Touching the horse was the best part of my day." - Boy Masina (age 5).

"I had fun and seeing the domestic animals was exciting for me. Brushing a horse was also fun too." - Lungile Hlophe (age 6).

"I saw a big sheep and many dogs. I was really amazed with a number domestic animal that I saw. It was a great trip." - Philile Sikhondze (age 5)

"I really enjoyed brushing the brown horse. I was afraid to touch the big sheep. I saw a peacock." - Thulane Dludlu (age 5)

"It was great experience. And being out of the classroom is always wonderful." - Bongane Mabuza (age 6)

"Excitement and Fun"!!!!!! I need to tell my friends about today's trip. It was so exciting." - Nokhutula Gamedze (age 6)

NCP teacher comments:

"The children seemed to have had fun. I also had an interesting time with my 18 month old son. He was pointing at all the animals he saw. On our way back from the trip, the children spoke about the wonderful time they had at Nyanza Stables. We are hoping to have more trips in the New Year. Thank you so much for the lunch and cake. It has really made our Christmas spirit very high. SIYABONGA!!!! THANK YOU." - Teacher from Bethany NCP

"It was a great experience for everyone, including myself. It was our first experience a few months ago (In September) when All Out Africa requested our NCP children join a Trip For A Trip expedition. Thank you so much All Out Africa for another exciting trip for our children. The children really had a good time and had a great Christmas lunch. So I would like to thank all partners involved in making all trips successful. Our children are truly blessed and they smiled all the way back from Nyanza Stables. THANK YOU SO MUCH AND STAY BLESSED GOOD PEOPLE." - Teacher from Mahlanya NCP

"The Christmas lunch was nice and we really enjoyed it with drinks. The cakes were delicious and the children fully got a treat of a life time. THANK YOU SO MUCH!!!!!!!!!! GOD BLESS YOU ALL." - Teacher from Ekuzukekeni NCP
"
Other trips that we have run to Nyanza Stables, Swaziland: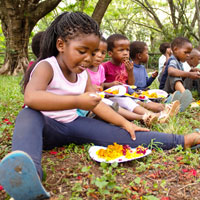 4th December 2018:
37 children age four - six years old, from Ekuzukekeni Neighbourhood Care Point visited the farm on this sunny and warm day along with supporting staff, volunteers and teachers. Seeing the animals was a true eye opener and the children had a fantastic time at their Christmas party. Here is a quote from one of the children -
"All of my classmates had fun and were very excited. The food as well was good and we enjoyed it."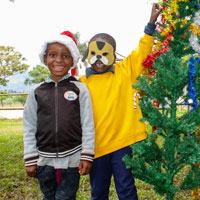 29th November 2018:
On a sunny and warm day a group of 30 children along with Swaziland supporting staff, volunteers, teacher, cook and All Out Africa volunteers visited the farm. The children were from Bethany Neighbourhood Care Point (NCP) and aged between four and six years old. They had an exciting time viewing the animals and enjoyed a Christmas lunch during their day too. Here is a quote from one of the children -
"It was great to see and touch a horse. I only see horses on TV"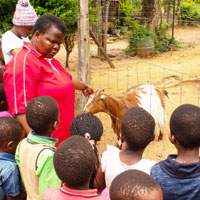 28th November 2018:
On a cold morning, 41 children (age four - six) from Ezulwini Neighbourhood Care Point visited the farm. The day warmed up later and the children learnt a lot about the animals from the tour leader. The children also very much enjoyed the cake with their lunch. Here is a quote from one of the children -
"Having a school trip was the best and helps with our learning."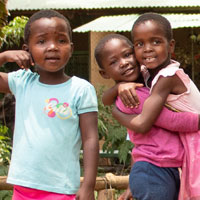 27th November 2018:
32 children (age four - six) from Mvutshini Neighbourhood Care Point visited the farm for a special Christmas trip. They saw a lot of domestic animals which they had learned about in the classroom and enjoyed taking lots of pictures. One of the children said this about their day -
"It was so much fun and I really enjoyed the food and our photo shoot."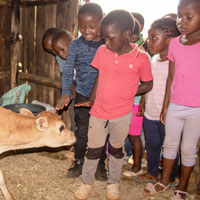 22nd November 2018:
On a warm and sunny day, 37 children visited the farm. The children age between four - six were from Mlindazwe and Nkhanini Neighbourhood Care Point. This was a Christmas trip and the children enjoyed a special lunch and had their photos taken with a Christmas tree. They learned a lot about domestic animals which they had been studying at school.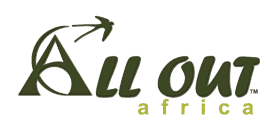 About our partner organisation:
All Out Africa is a social enterprise comprising of a group of companies and a non profit based in South Africa, Swaziland, Mozambique and Botswana. It caters for people looking for a wide variety of African experiences, from volunteering, tours, research, internships, and University field studies, whilst at the same time, building sustainable long term projects.
All Out Africa is serious about giving back to the community and the environment. That is why it set up a foundation to help expand and sustain its project development. This includes support to the six care centres for vulnerable children, a sports development program for local children and youth, community building projects, child sponsorship program to support vulnerable children at primary and high school levels to assist them with school requirements, and facilitate conservation research projects at the wildlife and marine research centres. All Out shares its passion for Southern Africa's people, places and wildlife with the world and offers adventures that change lives.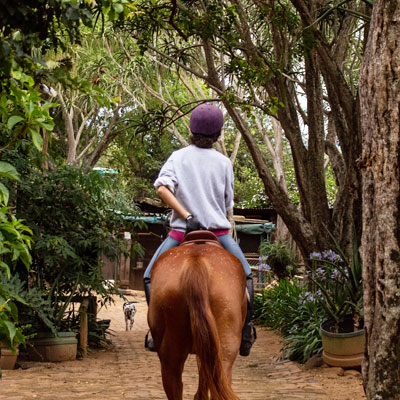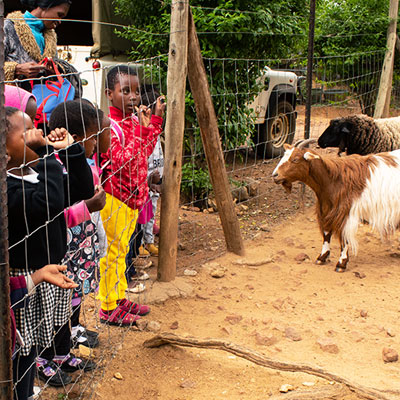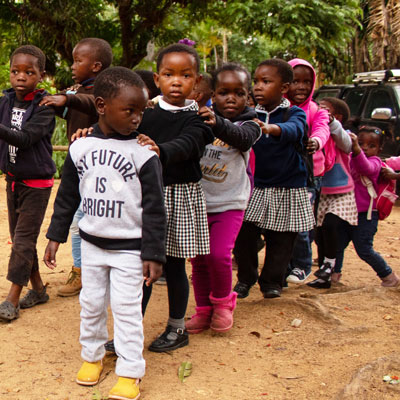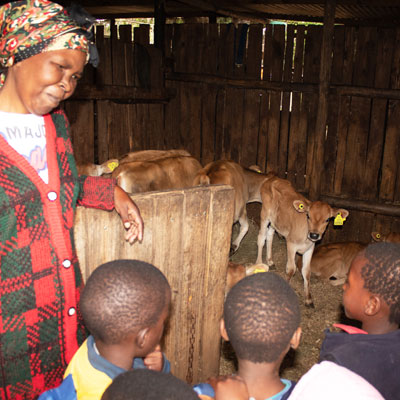 More about Trip for a Trip