Rattanakosin Exhibition Hall in Bangkok, Thailand - travel journal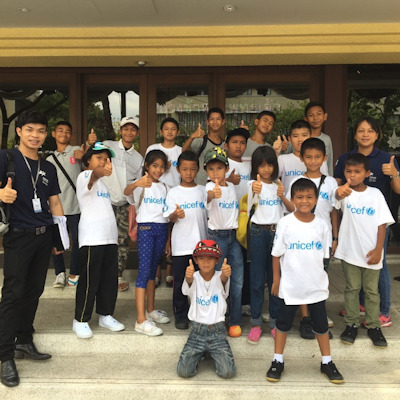 On 5 May 2017, Peuan Peuan took a group of 12 boys and five girls, aged six to 14 years on an excursion to the Rattanakosin Exhibition Hall. The exhibition hall recounts the rich history of Bangkok's royal city, referred to locally as Rattanakosin Island. It uses an impressive range of multimedia to present Thai tradition, culture, art, music and history.
The children all came from the Rong-Wai community, where Peuan Peuan has conducted outreach activities since 2010. Rong-Wai is located in Suan Luang district; a small community with about 108 adults and 60 children and youth, most of whom live in extreme poverty.
Peuan Peuan supports about 30 unemployed parents/care givers and supports children's education in Rong-Wai. Rattanakosin is about 23km from Rong-Wai, and thanks to Responsible Travel's support, the team was able to provide these marginalised children with transportation to the museum, breakfast, lunch and a snack.
Journal:
8am - Pick-Up, Breakfast and Travel:
The children and youth - as well as Peuan Peuan staff (including social workers and a ChildSafe officer) - were very excited and arrived early for the trip. Many children wore ChildSafe t-shirts and their best hats and bags for the trip. The staff distributed breakfast to the children, which they ate before boarding the vans. The two van drivers held all relevant insurance and were briefed on our Child Protection Policy before leaving. The children all wore seatbelts, and to cure their boredom during the drive, they held a music competition in the van.
10am - Arrival and Introduction:
When we arrived, we were welcomed by museum staff, who distributed souvenirs to the children and youth. We looked around the exhibition hall before beginning our adventure with a guide who explained the royal objects. The children were interested in the items, as well as the different forms of media in which they were presented.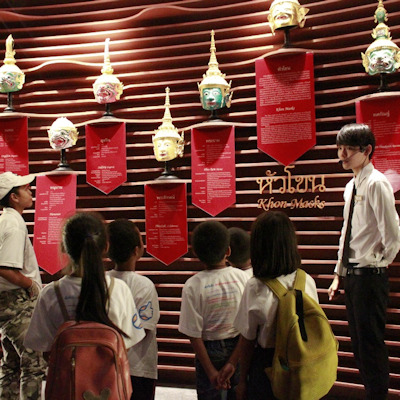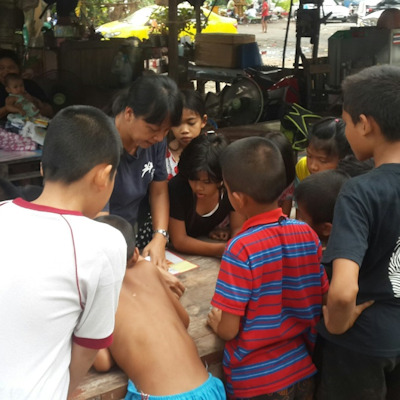 11am - Museum Tour:
The children were separated into two groups, and the older children helped take care of the younger children if they became tired. During the tour, the children discovered various different halls which included traditional Thai paintings, handicrafts, traditional dance (Khon), traditional music and a Thai photography shop. They were eager to learn and play during the tour.
1pm - Lunch:
One of the ChildSafe agents in Rong-Wai community helped prepare lunch boxes for the children.
2:30pm - Depart Home:
The children were so excited about their trip they kept asking when they could go again. When we reached Rong-Wai community in the afternoon, their parents were waiting for the children, and eagerly asked questions about where they went and what they had seen and learned.
Impact:
The children in Rong-Wai community have asked Peuan Peuan social workers if they can experience a trip like this, as they grew tired of playing football in the street. The traditional drum group presented by the community committee is the only recreational activity in which they had participated. None have been to an exhibition of this sort, and all were impressed by the multimedia at the museum.
Quotes from the day
"
"When is the next trip?"

"Can we go back?"

"This trip gave the children both happiness and knowledge, which is essential for child development." - Social worker
"
About our partner organisation:
Friends International is an award-winning social enterprise founded in 1994 that saves lives and builds futures of the most marginalised children, youth, families and communities in Southeast Asia and around the world. It works to create a future where all children are safe from all forms of abuse, and become functional, productive citizens who contribute to a more peaceful, equitable and sustainable world. Friends works in Cambodia, Indonesia, Laos and Thailand, and with 45 partners around the world, to provide comprehensive services to marginalized urban children, youth and their families. Since its inception, Friends has supported the education, well-being, and sustainable reintegration of more than 300,000 vulnerable children, youth and their families.
Peuan Peuan ( Friends in Thai) is Friends International's Thai program. Peuan Peuan was launched in 2006 after Friends was commissioned for a report on foreign child beggars in Bangkok by The United Nations Inter-Agency Project on Human Trafficking (UNIAP). Peuan Peuan now works in Bangkok and Aranyaprathet (at the Thai-Cambodia border), as well as at eight government protection and detention centers.


More about Trip for a Trip